Introducing the team who can help you achieve Your Dreams, Your Goals, Your Plans
Alvin (Al) Jones, CFP, CLU, ACCUD, ICD.D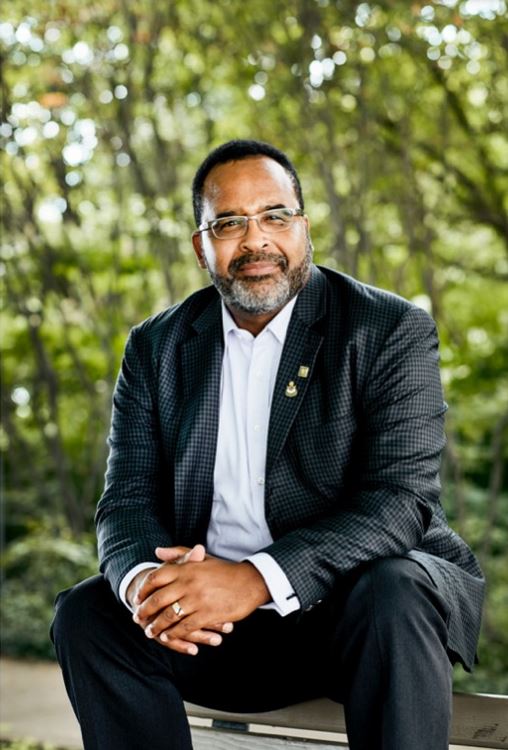 Certified Financial Planner
Chartered Life Underwriter

Member of the Million
Dollar Round Table
Member of Advocis
Al began his career with London Life in 1996 and is the President of A. Jones Wealth and Estate Planning Inc. in Barrie. Al holds his CFP (Certified Financial Planner), CLU (Certified Life Underwriter), ACCUD (Accredited Canadian Credit Union Directors) and ICD.D (Institute of Corporate Directors Designation) designations. Al has maintained a longstanding affiliation with Advocis, the Financial Advisors Association of Canada and is a Past Chair of the TFAAC Board as well as a Past Chair of the Institute for Advanced Financial Education, ''The Institute''. Al earned his ICD.D designation in 2018 and was recognized by his peers as class valedictorian of the Director Education Program. The ICD.D designation represents a lifelong commitment to excellence in the boardroom.
''Tenacious & Versatile'' is the manta of the Grey & Simcoe Foresters Regiment, Al has been a member of the Grey & Simcoe Forester Honorable Guard for more than 10 years and is committed to the regiment's mantra to promote, educate, and support our Canadian Armed Services.
In April 2019, Her Majesty officially appointed Al to be the Honorary Lieutenant-Colonel of the Grey & Simcoe Foresters Regiment for a three-year term. During this appointment Veteran's Affairs Canada (VAC) approached Al's son Adam to be highlighted in a promotional video focussing on families who serve. Al's appointment and affiliation with the Regiment led to Al being included in this project. The Jones family has a significant military history dating back to the Empire Loyalists.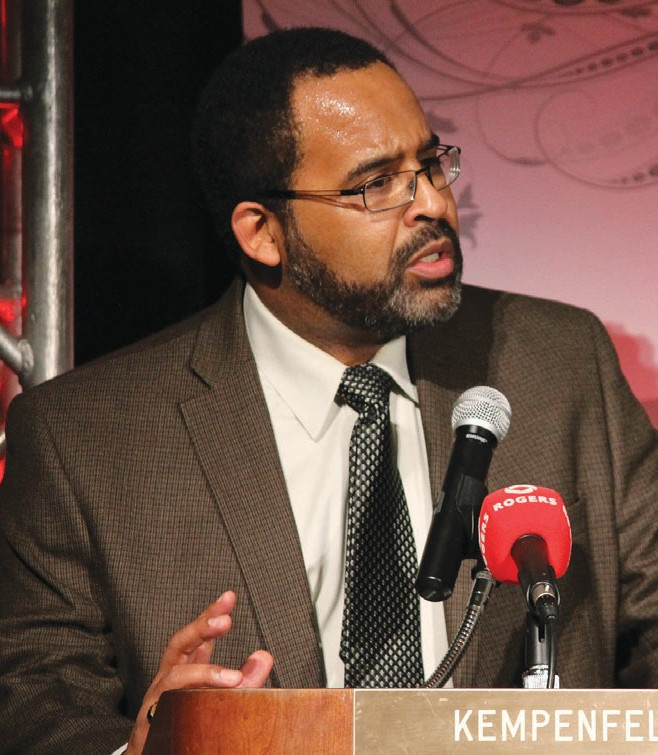 In December 2022, Mary Simon the Governor General of Canada, officially appointed Al to be the Honorary Colonel of the Grey & Simcoe Foresters Regiment for a three-year term.
''Non-Solis Nobis'' ~ Passionate about giving back to his community and a trail blazer, Al was a two-term President of the Innisfil Chamber of Commerce and a past Chairman of the Board of the People's Credit Union, the first person of colour to chair all the forementioned boards. Always enjoying a good dram, he is a Past-Convenor of the Simcoe Scotch Nosing Society, and a long-time supporter of Theatre By The Bay, a local theatre company in Barrie.
He is married to Sue and together they have raised their sons Adam & Connor.
Platinum Jubilee Volunteer Award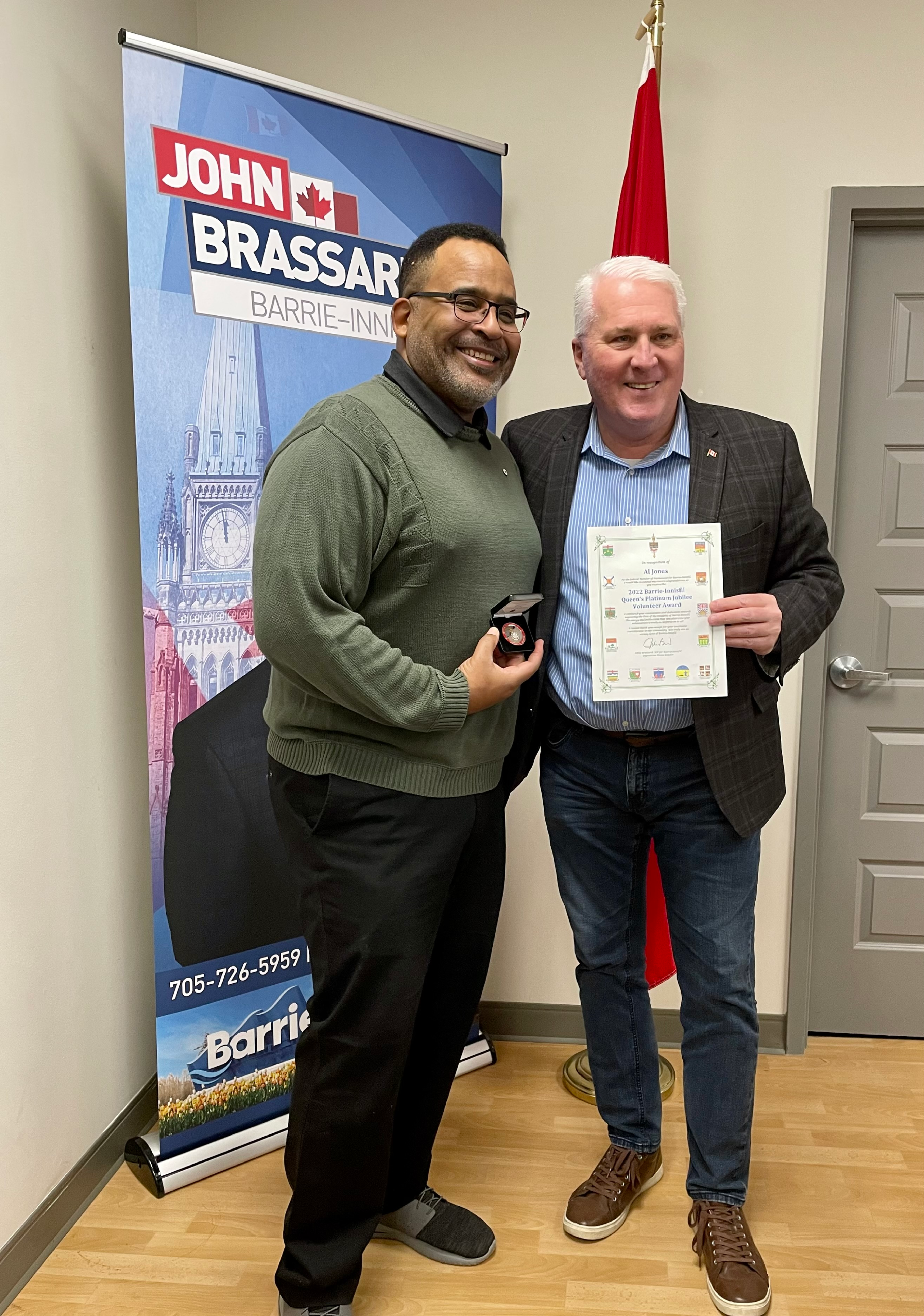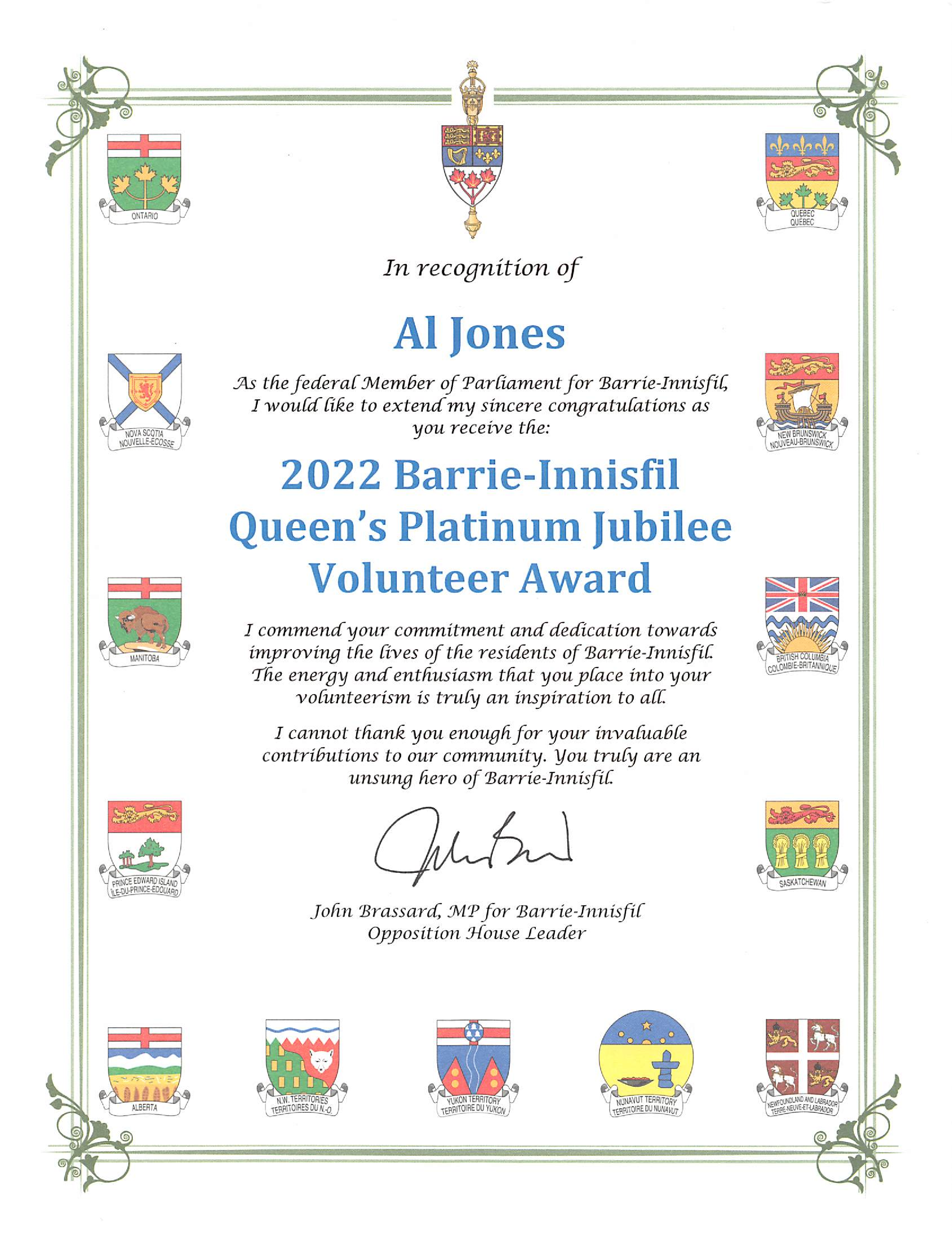 Al Jones was presented with the Queen's Platinum Jubilee Volunteer Award by MP John Brassard. What an honour to be recognized for his commitment and dedication towards our community.
J.G. Taylor Award Recipient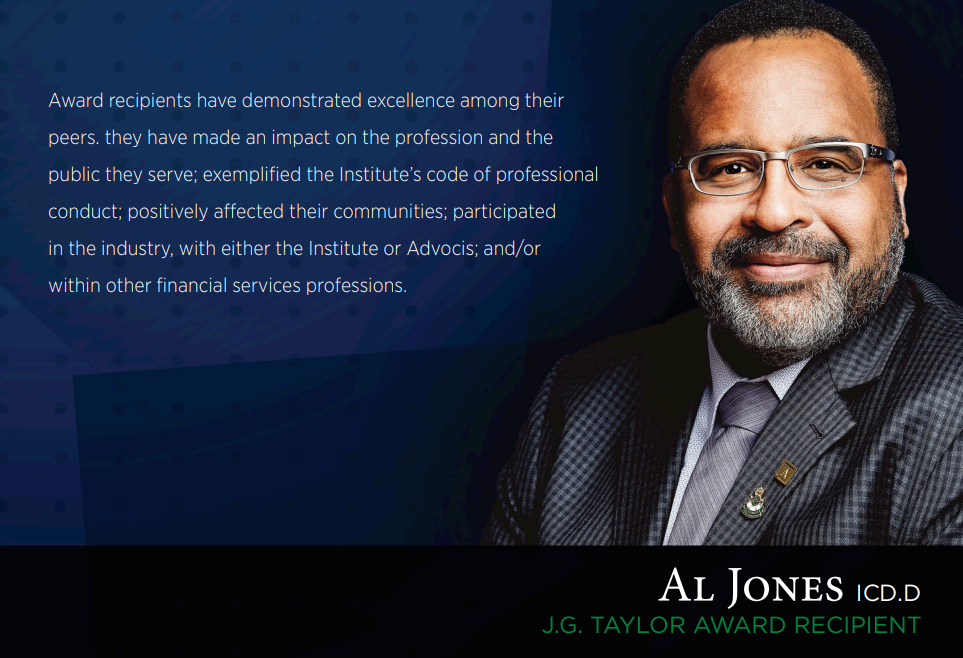 Read the Article....
Early morning bagpipes kick off Remembrance Day in
downtown Barrie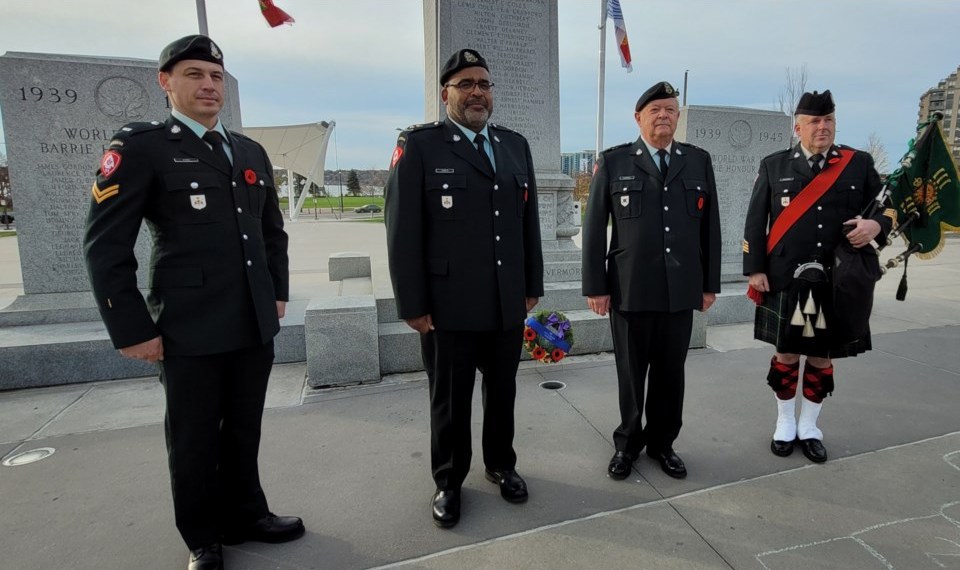 Despite public health measures amid the pandemic, officials finding ways to honour veterans;
'It doesn't matter if it is the Battle of the Somme or Afghanistan, we need to remember them'
Read the Full Article....
How to Manage Ethical Dilemmas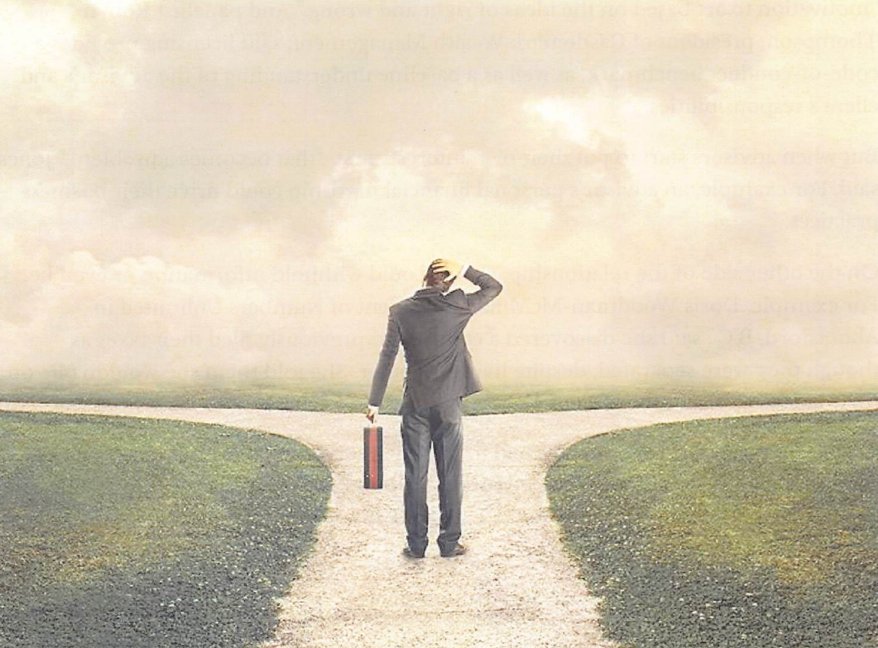 Al was a panelist on the Distinguished Advisors Conference presented by the Knowledge Bureau. Al is quoted referring to an ethical dilemma.
Read the Article....
Spotlight Feature (May/June 2021)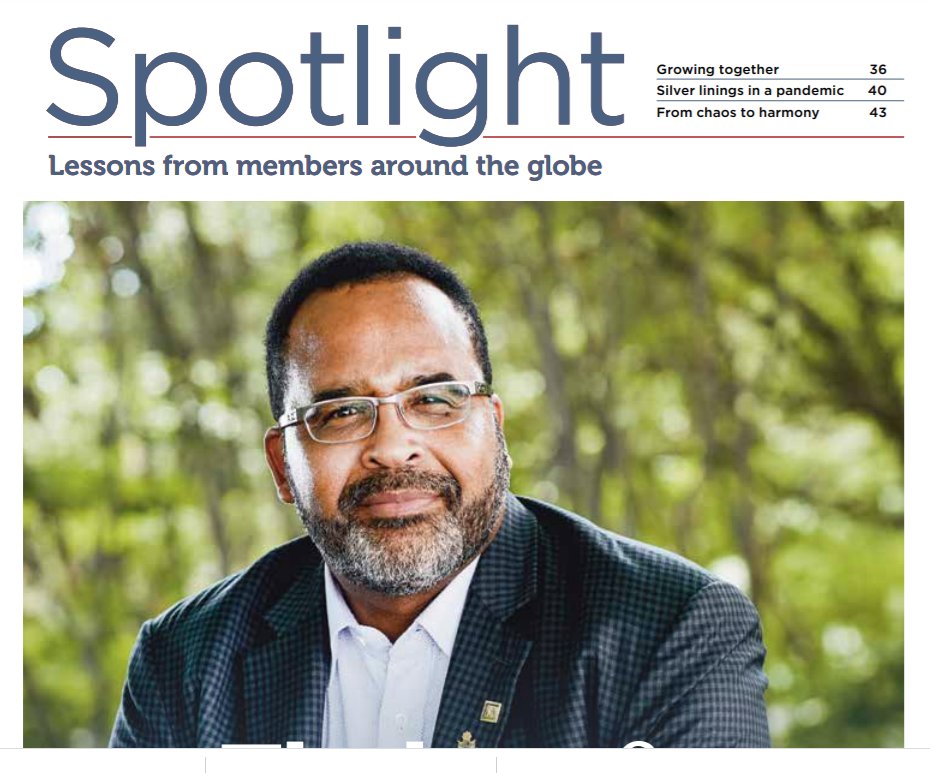 The benefit of hiring your clients
Jones sees growth and insight from staff members who were already working with his practice.
Read the Article by Matt Pais....
Neighbours of Tollendal Publication (May 2021)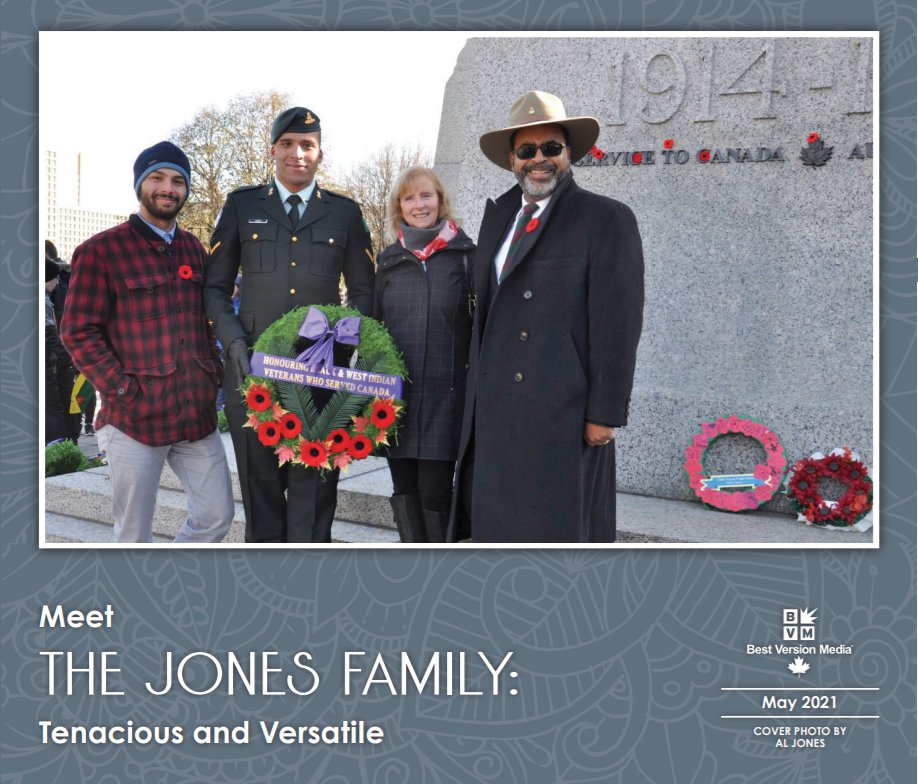 This article features the lives and accomplishments of the Jones family.
"The Jones are both family and community focused.
Giving back is just part of what they have accomplished."
Read the Article....
Neighbours of Tollendal Publication (July 2019)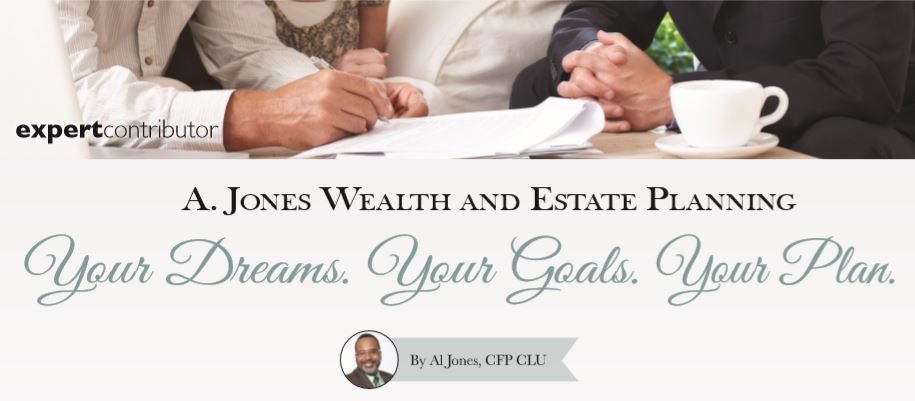 This article was printed in the July 2019 Edition of Neighbours of Tollendal. Al will regularly be featured in this mazagine as an expert contributor.
Read the Article....
A Message from the Past Chair of Advocis
Al is the past Chair of Advocis. He recognizes the importance of volunteer service in Advocis as well as in every day life.




Forum Feature - Social Change (September 2018)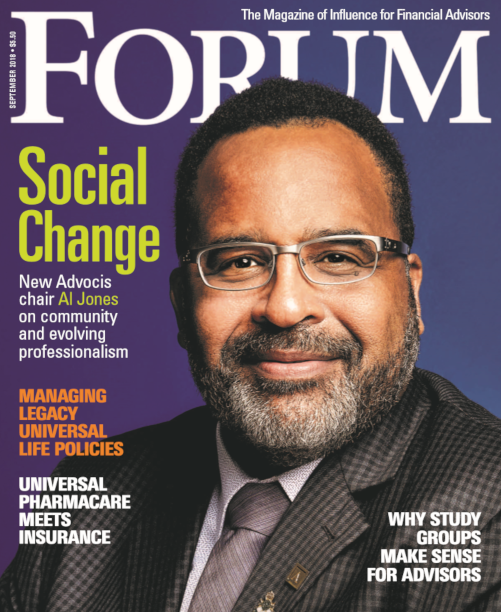 Incoming chair Al Jones talks to Deanne Gage about true professionalism, community involvement, and some of the lessons social workers can share with advisors.
Social work was a natural career choice for Alvin (Al) Jones since his passion is helping others. He loved working with disadvantaged youth, helping them figuring out who they were and how to make better choices in life.
Read the Article....



Globe and Mail Announcement (April 2018)
Congratulations to Al on earning the Institute of Corporate Directors designation - ICD.D. He participated in this course run by the Rotman School of Business over a period of 4 months and was very engaged. His classmates voted him to be one of the two class valedictorians.
Read the Article....



Investment Executive Magazine Feature (September 2017)
From Troubled Youth to Clients
Al Jones used to work on a government farm teaching life skills to kids with big problems. Now, he's a financial advisor who advises clients on financial planning, insurance and investments - and the change in careers is not that big a stretch!
Read the Article....












Forum Magazine Feature (April 2016)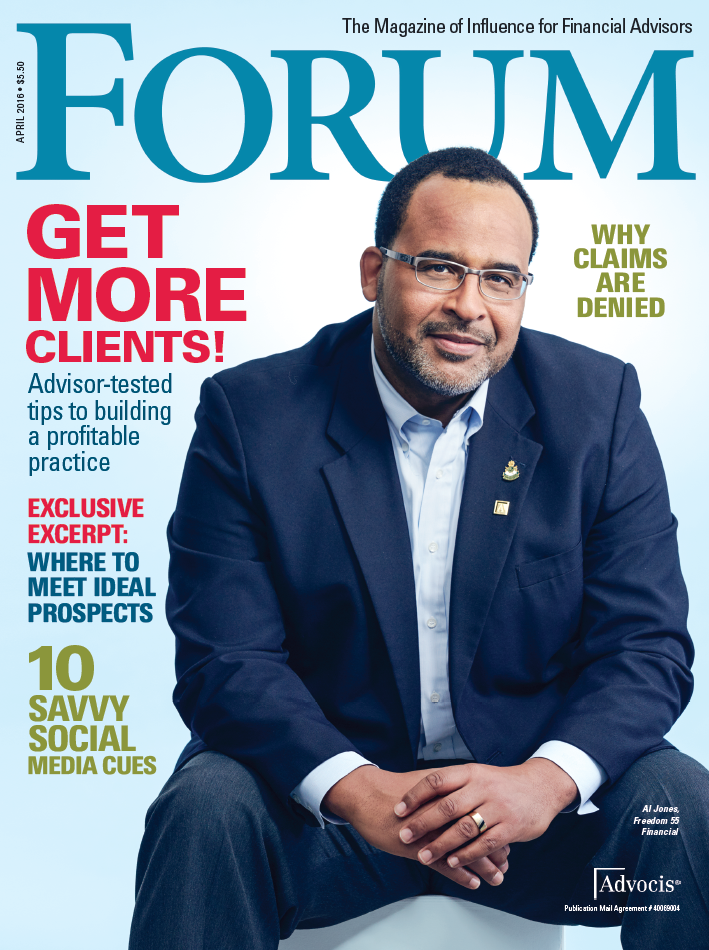 Forget cold-calling complete strangers or taking out advertisements in the local paper. Today's advisors are finding present-day, innovative ways to engage potential clients.
For Al Jones, landing new clients comes down to one word: help.
"That's the opening for when I want to sit down with a person. It's, 'how can I help?' "
says Jones, president of A. Jones Wealth and Estate Planning Inc., and an insurance and financial security advisor with Freedom 55 Financial.
"Numbers are still there, but the more you can help, the more opportunities will be presented."
Read the Article....